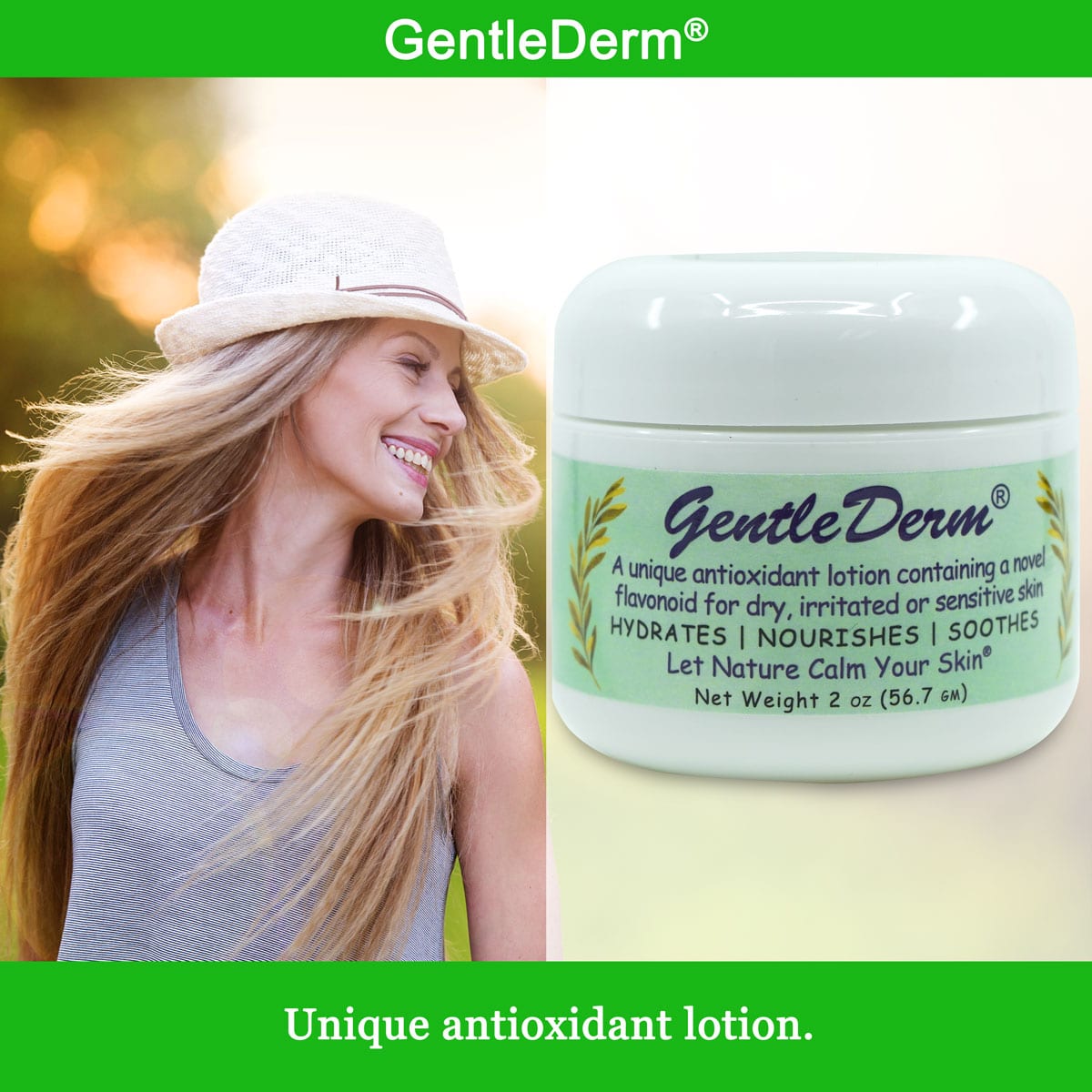 Unique Antioxidant Lotion
GentleDerm® – A unique, antioxidant lotion containing a novel flavonoid, tetramethoxyflavon, for skin sensitivities.
GentleDerm® is a natural lotion that hydrates, nourishes, and soothes. GentleDerm® uses an exclusive combination of ingredients for skin sensitivities. Unique to Algonot's family of formulations is olive pomace oil and flavonoids.
Let Nature Calm Your Skin with GentleDerm® from Algonot
About Our Ingredients
Organic Aloe vera leaf juice: Antioxidant and antibacterial properties, accelerates the healing of burns and may improve skin and prevent wrinkles.
Olive fruit extract: A B-complex vitamin which may support cell growth and proper metabolism of essential fatty acids.
Organic Sunflower oil: Naturally abundant with Vitamin E, an antioxidant which may protect skin cells from environmental stressors.
Tetramethoxyflavone (tetramethoxyluteolin): May reduce skin irritation from sensitivities.
Roman Chamomile oil: May support cognitive actions as well as may promote production of cells.
Oregano oil: Considerable evidence shows it may promote cognitive actions.
Honey: A naturally occurring antioxidant which may reduce free radicals.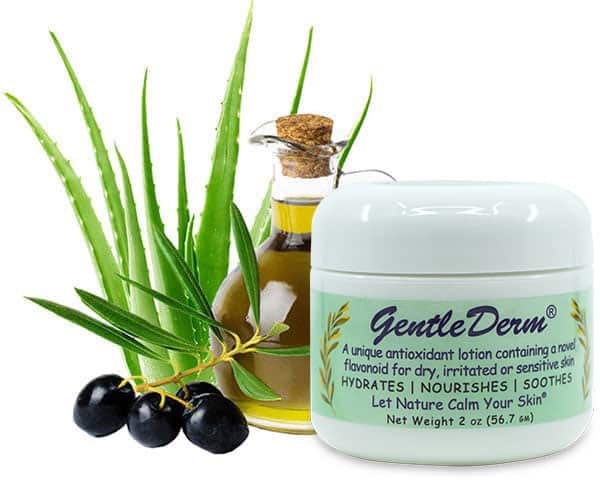 The Effects of Skin Sensitivities
Is your skin sensitive and easily irritated? Do you find your skin is sensitive to food, medications, stress, or products? Having sensitive skin is frustrating and can be painful. Often times it can seem hopeless when the products recommended to you seem to irritate your skin more. Finding the right products for your skin can be a challenge.
There are many things constantly affecting our skin. Age, weather, hormones, diet and exercise are only a few. When you feel like everything you do leaves your skin worse than before, it can feel defeating. Many products on the market contain chemicals that can make your symptoms worse. These chemicals can irritate your skin, dry it out, or cause a burning pain and they may leave your skin feeling more sensitive than before. That would be the last thing you want to do for your already irritated skin.
It can feel like a never-ending circle of trying to better your skin and creating more issues for it. There are many benefits of a natural skin care product, but finding the right one for your skin can seem impossible. GentleDerm® has been developed to hydrate, nourish, and soothe sensitive skin.
Fortunately, there is good news when it comes to sensitive skin!
GentleDerm® is a natural lotion that Hydrates, Nourishes and Soothes. It can help to reduce skin irritation, skin sensitivities, and may help to rejuvenate your skin, leaving it feeling nourished and healthy. GentleDerm® has been developed for skin sensitivities using an exclusive combination of ingredients based on published research. Unique to all Algonot's family of formulations, GentleDerm® also contains olive pomace oil and flavonoids.
Reviews
– SB, Tennessee

First Rate!

The company to do business with. Customer service comes first. First rate.

– DN, Texas

I Am Very Pleased!

I am very, very pleased with this product and with the service provided by this seller. Thank you.

– LS

Wonderful!

Our deepest wishes for your Christmas to be as wonderful as you have already made ours!

– AB, New York

I Purchase Regularly!

I purchase 3-4 month supplies regularly and I am satisfied with this product.
Buy GentleDerm® Today!
You do not need a prescription to order GentleDerm®. GentleDerm® is a unique, natural antioxidant lotion containing a novel flavonoid, tetramethoxyflavon, for skin sensitivities that hydrates, nourishes and soothes.
GentleDerm® uses an exclusive combination of natural ingredients, based on published scientific research.
GentleDerm® Ingredients List
Net weight 2 oz (56.7 g)
Organic Aloe Vera Leaf Juice
Olive Fruit Oil
Organic Sunflower Seed Oil
Tetramethoxyflavone (tetramethoxyluteolin)
Roman Chamomile Oil
Oregano Oil
Honey
Vitamin C
Other ingredients: Water, organic aloe barbadensis leaf juice, olea europea (olive) fruit oil, glycerin, organic helianthus annuus (sunflower) seed oil, steareth-21, steareth-2, cetyl alcohol, stearyl alcohol, tetramethoxyflavone, anthemis nobilis flower oil, origanum vulgare oil, honey, glyceryl stearate, lanolin, potassium chloride, sodium chloride, magnesium chloride, disodium phosphate, tetrahexyldecyl ascorbate, sodium benzoate, disodium EDTA, phenoxyethanol, caprylyl glycol.
Caution: You should consult with your doctor about GentleDerm® , please print this information and a copy of the ingredient facts for your personal physician. Consult your health professional before starting any products in the Algonot Family of Products. Consult your health professional before using if you are pregnant or nursing. Consult with your health professional about GentleDerm® if you are allergic to any of the ingredients listed on this page or on the label.
THESE STATEMENTS HAVE NOT BEEN EVALUATED BY THE FDA. THIS PRODUCT IS NOT INTENDED TO DIAGNOSE, TREAT, CURE, OR PREVENT ANY DISEASE.
*The information on this label or page has not been evaluated by the Food and Drug Administration.