Theoharis C. Theoharides, BA, MS, MPhil, PhD, MD, FAAAAI
Scientific Director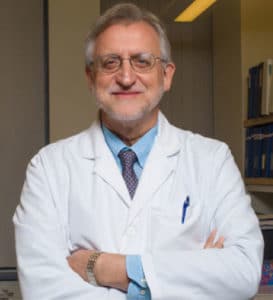 Dr. Theoharides is Professor of Pharmacology and Internal Medicine, and Director of Molecular Immunopharmacology and Drug Discovery in Boston, MA. He received all his degrees (BA cum laude, MS, MPhil, PhD, MD) from Yale University and was awarded the Winternitz Price in Pathology. He trained in internal medicine at New England Medical Center and received the Oliver Smith Award "recognizing excellence, compassion, and service."
He received a Certificate in Global Leadership from the Tufts Fletcher School of Law and Diplomacy and a Fellowship at the Harvard Kennedy School of Government. He also received the Excellence in Teaching ten times, the Distinguished Faculty Recognition Award twice, and the Alumni Award for Faculty Excellence. He first showed that mast cells, known for allergic reactions, are critical for neuroinflammatory conditions and developed the Algonot family of dietary supplements. He has published over 450 scientific papers and received 27 patents and trademarks.
He was inducted into the Alpha Omega Alpha National Medical Honor Society, the American Academy of Allergy, Asthma and Immunology, the Rare Diseases Hall of Fame, and the World Academy of Sciences. He has been awarded the Dr. George Papanicolau Award, and the 2018 Albert Nelson Marquis Lifetime Achievement and Distinguished Humanitarian Awards. Dr. Theoharides was recently inducted in the World Academy of Sciences.
Maria Theoharides BSc, MEd
Director of Operations
Maria received her first degree in Biomedical Sciences with Honors from Greenwich University in the UK.
She then completed graduate studies on science education and received a Master's in Education and a Certificate in Neurobiology of Dyslexia from Lesley University in Cambridge, MA. She took a number of courses, attended relevant conferences and co-authored scientific papers on child development and autism spectrum disorder.
She is a board member of the nonprofit company "Inflammation Healing". She is using her expertise to ensure the best quality and presentation of the Algonot products to the health community and to the public.